Dr. Jeremy Jacob - CEO/Co-Founder
As the Co-founder and CEO of Speedy Sticks, Dr. Jeremy Jacob, PharmD serves as the visionary entrepreneur for the company. He leads the development of the company's long- and short-term strategies to realize the vision of growing Speedy Sticks into a nationwide digital healthcare company that revolutionizes the medical services sector and the healthcare workforce at large. With innovative proprietary technology being built, Speedy Sticks is poised to become the largest of its kind.
Dr. Jacob received his doctorate degree in pharmacy (PharmD) from the renowned Long Island University in Brooklyn, NY, and holds licensure in New York and New Jersey.
Daniel Buitrago - President/Co-Founder
Daniel Buitrago is the co-founder and President of Speedy Sticks. His responsibilities include providing the best solutions to our clients across the nation, and managing and executing the technology strategy that delivers the corporate vision through the use of situationally appropriate technologies, effective agile processes, and highly effective teams. He also drives process improvements with technology and operation implementation. Mr. Buitrago recognizes promising ideas and finds ways to introduce them into the organization's future plans and discard ideas that are ineffective, and costly.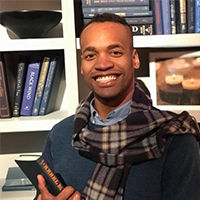 Brandon Wall
Chief Operating Officer/Managing Partner
Brandon joined Speedy Sticks in 2021. In 2011 he moved to New York City to start a new chapter with a career in sales, corporate training, and business management.
He has created business development and online marketing platforms for multiple organizations and has worked as a corporate training manager. He has lead successful directorships for sales, onboarding, and operations. Brandon strongly believes in a workplace that supports healthcare and consistently supports employee training development. Through Brandon's training, coaching, and mentoring over the years he has seen an accelerating level of revenue, increased happiness within the office culture, and client referrals through genuine representation and factual/realistic expectations. He brings his expertise and experience from his past fields to support the continued growth of Speedy Sticks.
Mariah Graham - Assistant Director of Project Management
Mariah Graham is the organizations' assistant director of project management. She oversees the daily scheduling and inventory of our clinical and ancillary staff, constructing their daily assignments to provide punctual services for our clients. She monitors all project processes and operations for time and resource efficiencies, cost management and process improvement opportunities.
Mariah has created systems where she undertakes external industry engagement with peers, infrastructures and clients to develop market solutions to operational challenges, as well as training employees and providing tooling for the automation of business processes. She is in daily contact with the executive team at the organization working on projects and solutions to automate operations, infrastructure and delivery of service.
In pursuit of furthering her education, she embarked on a higher education journey, by enrolling in the business program at CUNY- The College of Staten Island in New York City, which she is anticipated to finish in May 2022 with her bachelor's of science in business with a marketing concentration. As a native New Yorker, she enjoys being active in her community. During her free time, she enjoys animals, travel and reading.